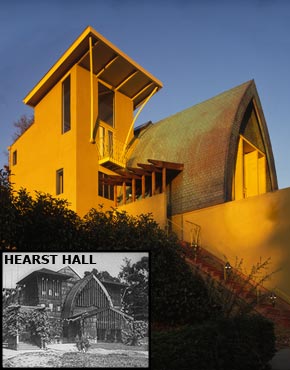 This small house for a newspaper publisher and her daughter replaced a modest 1920's era Spanish Colonial Revival cottage, lost in the 1991 Oakland Hills fire.

Architecturally, the house is related to Maybeck's Hearst Hall. His client, Phoebe Hearst, was, like Dixie Jordan, a woman with connections to the publishing game. Hearst Hall, built in 1899, then moved to the UC Berkeley Campus in 1901, was, like Dixie's former house, consumed by fire, in 1922.

The new house holds the busy street at arm's length, while curling around a sunny backyard patio. Inside, this small house contains one big room - a great, 'Gothicky', vaulted space, supported on wooden ribs. This room faces a terrace above the street.

An upstairs tower houses the daughter's bedroom. The path to the bedroom is along stairs over and into the space of the great, vaulted room.

The dining room opens to quiet backyard, through a wooden trellis, whose pieces are carved to resemble dragons' heads.

At the exterior, the house is fashioned from unpainted rough stucco, copper clad asphalt shingles, and redwood beams.

The interior of the Jordan Residence is rendered in polychromatically-stained wood and wood chip panels, as well as copper-clad asphalt shingles. The face of the fireplace re-uses 1920's decorative ceramic tile salvaged from the ruins of the owner's earlier house. The interior balcony is a landing on the stair to the tower. The Gothic-designed cut-out railing is fashioned from color-stained pine boards. Curved ribs supporting the walls and roof are finished in color-stained oriented strand board, a wood material made largely of recycled material.