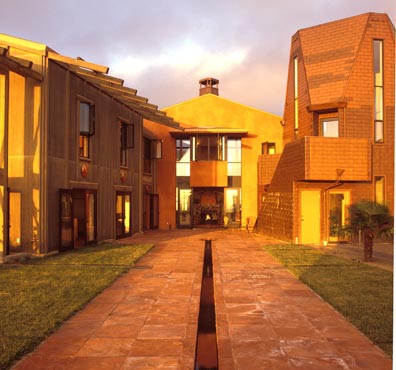 In the aftermath of the 1991 Oakland Hills firestorm one neglected truth is that calamitous wild fires are dependably recurrent phenomena. The 1923 fire in nearby Berkeley incinerated hundreds of houses, as did an 1896 fire in the same area.

In the rush to re-build, evidence of the most recent fire is removed, and the historical pattern of fires is ignored. This is understandable, of course, and has to do with human nature.

Without relishing catastrophe, the Roth Residence is about the 1991 and earlier fires and the place's first inhabitant.

The site, which is largely level, possesses a glorious prospect of San Francisco Bay. An appealing 1920's Chalet Style bungalow had stood on the site, but had burned to its foundation in the recent fire.

David Roth, whose nearby house had also burned, came to an early meeting with a sketch plan of a courtyard dwelling oriented towards the view. This was a felicitous diagram.

The house is organized in three blocks, set around a courtyard whose open side faces the Bay. In addition to their domestic purposes, these blocks stand for the recurring pattern of building, inhabiting, and calamity in the Oakland Hills.

The street-fronting block, stucco and timber with wide overhanging eaves, formally resembles the Chalet Style predecessor. The library tower, clad in blackened copper shingles, recalls the charred monolithic chimneys which were the new landmarks after the fire. Across the courtyard, the third block, with its exo-skeleton of wood framing members and plywood, appears to be under construction.

The red sandstone courtyard provides for life out-of-doors, and is criss-crossed by the concrete foundations of the earlier house. From the court's heart springs a long narrow pool, extending towards the Bay and reflecting it.